When it comes to fashion, visuals are key. It's no wonder, then, that many lovers of style turn to Instagram and fashion blogs to get their fill of all things fashion.
Instagram is great when it comes to OOTDs—outfit of the day—and quick style inspirations, but blogs are where the serious fashionistas go to write about trends, advice, and the latest fashion innovations. Not feeling particularly stylish today? Fashion blogs can give you inspiration for dressing well even on those lazy mornings.
Got your eye on this season's hottest trends? These blogs are great for helping you figure out which clothing pieces and colors suit your frame. They can also provide you with ideas about mixing and matching pieces to create a dozen perfect looks without breaking the bank.
The rise of fashionable Instagram influencers and stylists paved the way for the bloggers on our list to have a significant presence online. Many of these bloggers started out on social media, and their keen eye for style did not go unnoticed by their followers. While they have their own website, most of them continue to be active on Instagram and YouTube.
21 Trendiest Fashion Blogs to Follow –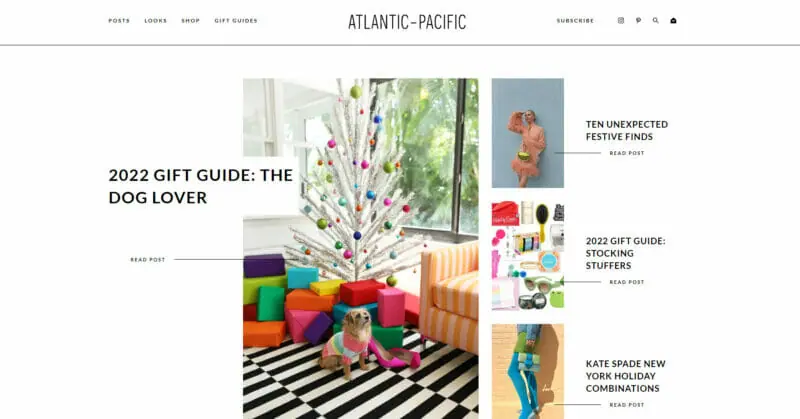 Atlantic-Pacific creator Blair Eadie has been in the fashion industry for several years now. Having worked for companies such as Tory Burch and Gap, she has the insider's experience in how the industry has evolved over the years. She started Atlantic-Pacific in 2010 to showcase her own fashion aesthetic, which she describes as "east-coast-meets-west-coast." She has built up a significant social media following, including over 1.9 million Instagram followers.
She has worked as an influencer with many brands, including Nordstrom, Amazon, Sephora, CoverGirl, Gucci and many more. She has also collaborated on global campaigns with luxury brands such as Vogue, Elle, and Harper's Bazaar, among others.
A quick perusal of her website shows eye-catching images of the latest trends that she loves and her tips on what to wear and where to get them. What's also great about Atlantic-Pacific is the regular updates of FAQs that Eadie posts, where she responds to questions she receives from fans and followers.
Typical recent articles include:
Under $100 Favorites
Back to Basics: Seven Staples
H&M Innovation Collection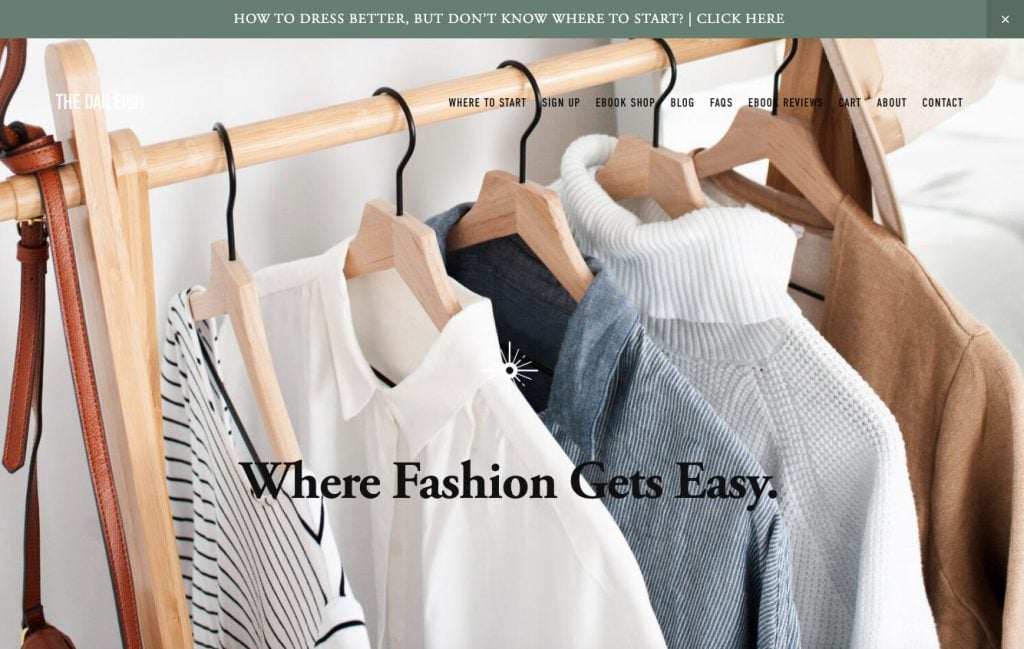 The Daileigh's Ashleigh Hutchinson wants her readers to build their perfect closet. She aims to help women of all ages find or create a style they love. In particular, Ashleigh wants older women to feel confident in their own style. She wants to break the assumption that some trends are suited only to a particular age group. Ashleigh's philosophy centers around the notion that "age is only a number."
Ashleigh's blog is full of advice for the regular woman to make better fashion choices, whether it's "Dressing Better With the Clothes You Have" or starting a capsule wardrobe. Along with her blog posts, she has also published e-books and has even held online webinars to help people improve their fashion sense.
Ashleigh frequently posts "How To" articles, often adapted to target a particular segment of her audience. She has written posts that are aimed at women of varying ages:
How to Wear Shorts in Your 40s
How to Wear Shorts in Your 50s
How to Wear Shorts in Your 60s

The whimsically named Egg Canvas is the brainchild of Erica Choi, a design director and photographer based in New York.
Why the name "Egg Canvas"? Erica was inspired by her Korean childhood nickname, which means egg, while "canvas" is the medium with which art is created. "Egg Canvas," therefore, is her life—creating beautiful things each day on a blank canvas.
A licensed esthetician and graphic design graduate, Erica has a discerning eye for visuals. The posts on Egg Canvas have beautiful photos that are accompanied by short texts.
The blog includes a section showcasing the latest New York Fashion Week as well as a guide around NYC.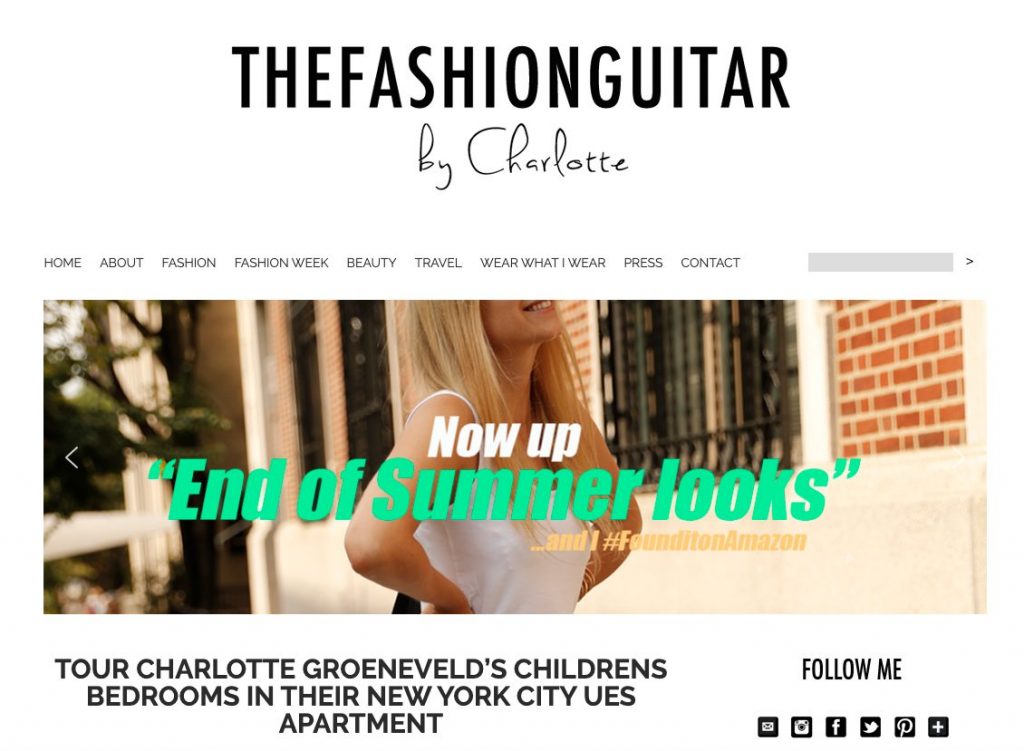 The Fashion Guitar is the online blog of Dutch-born Charlotte Groeneveld-Van Haren. Now based in New York, she is a mother of two and runs her blog full-time.
Charlotte had worked with fashion blogs in one of her former jobs until she decided to create one herself. As a personal style blog, The Fashion Guitar showcases Charlotte's own fashion sense. When she became a mother, the posts naturally featured her maternity and motherhood style, and it became a significant part of the website. Charlotte has worked with her favorite brands and designers, and loves collaborating with them.
The Fashion Guitar splits its posts into nine categories:
Brand Collaborations
Beauty
Editorial Shoots
Fashion Week
Inspiration
Mamma Fashion
Outfit
Travel
5 Days 5 Ways
☛ 15+ Best Food Blogs to Sate your Hunger in 2023 List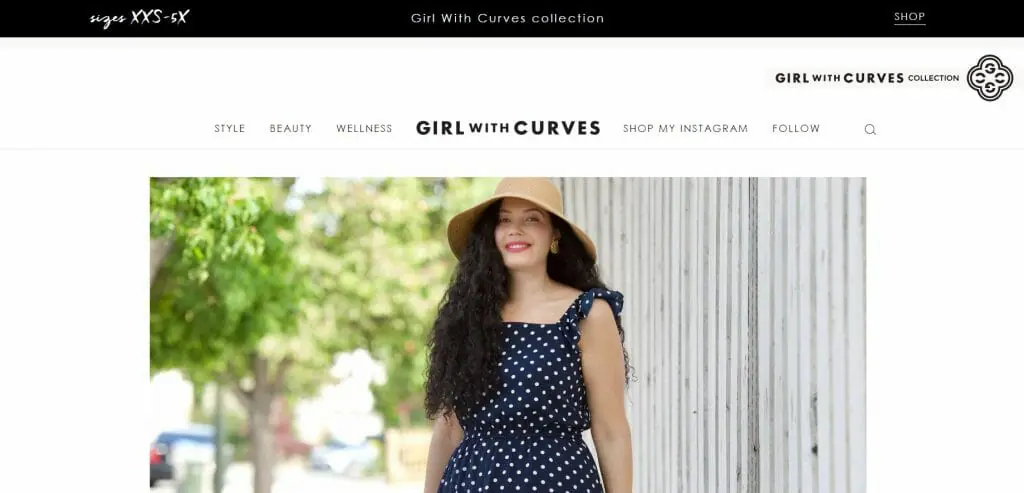 Let's face it—the body type of models is far from reality. Slim people do exist in real life, but there are women with bigger sizes who can look just as good. People come in all shapes and sizes, but many of us have been conditioned to believe that only one body type is ideal for fashion.
This is the mindset that Girl With Curves hopes to shatter. Tanesha Awasthi created Girl With Curves in 2011 to represent everyday people who aren't a size 0 or 2. The blog describes itself as an "award-winning blog made possible by people who believe women deserve to look and feel beautiful, regardless of weight, shape or size."
Since starting the blog, Tanesha has become a favorite plus-sized fashion blogger in the industry. She hopes to help women—particularly bigger sized women—build their confidence and self-esteem through fashion.
The blog includes trends, style tips, beauty advice, plus parenting and wellness. Their hashtag #StyleHasNoSize emphasizes their belief that fashion and style are for everyone, regardless of their body type.
In 2021, they launched the Girl With Curves at QVC collection, featuring pieces with true size inclusivity.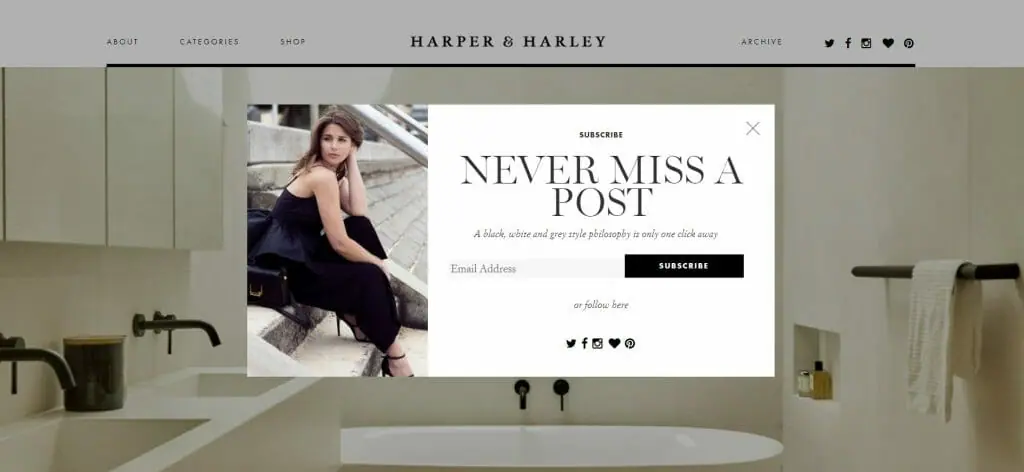 Fans of the minimalist aesthetic will love Australian blogger Sara Crampton's website Harper & Harley. Her "less is more" philosophy is unmistakable in her posts, from her fashion to her home design. Since starting the blog in 2008, Sara has made a name for herself as the go-to brand for the classic, timeless, and minimalist wardrobe.
Sara has appeared on the Australian reality show Fashion Bloggers. She has also worked with global fashion brands such as Gucci, Estée Lauder, Uniqlo, and Nike. Sara's influence has also extended to non-fashion brands, and she has also been tapped by Jaguar, YSL Beauté, L'Oreal, and Dyson.
If you love whites, blacks, and grays, head on over to Harper & Harley for a look at Sara's minimalist but super trendy fashion style. Some of her posts include:
That Blazer Life
A Summer Staple
White Shirts and Blue Jeans Never Go Out of Fashion
My Pregnancy Style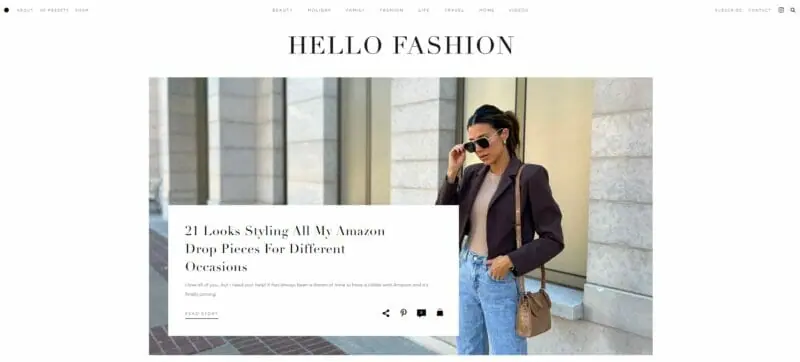 Hello Fashion by Colombian-American blogger Christine Andrew features posts covering everything from fashion to beauty, family, lifestyle, and travel.
Christine created her own fashion brand called ILY Couture in 2011. In the same year, she started Hello Fashion, initially as an online diary where she shared her favorite fashion finds as well as helped customers wear and style their ILY Couture buys.
Christine is a true style icon, having appeared on Vanity Fair's Best-Dressed List. Ironically, she was rejected from a fashion design school—it was this rejection that drove her to strive in the fashion industry.
Some recent posts in Hello Fashion include:
The Secret to Making Your Athleisure Look More Luxe
4 Ways to Wear a Button-Up Shirt
Casual Valentine Looks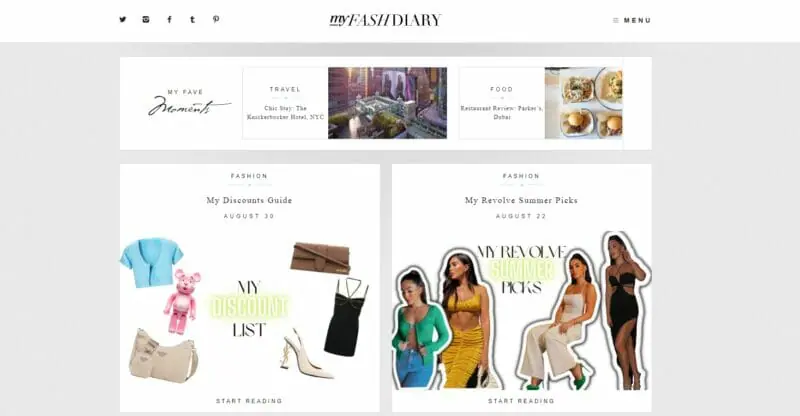 Blog creator and editor Tala Samman defines fashion as "what others declare is in," while style is more personal—"what you declare is in." My Fash Diary is Tala's personal style diary, often posting about the things that she loves, what she wears, the hottest trends in Dubai and in cities where she travels, and others.
Dubai-based Tala, who was born in Chicago and has Syrian roots, gives us a glimpse of the fashion and styles in the Middle East. Although the blog's name implies a heavy leaning toward fashion, Tala also posts about beauty, food, and travel.
My Fash Diary has gained international recognition, receiving nominations for Marie Claire, Twitter, UK Blog, and Ahlan! Magazine's Best at the Dubai awards. She was cited in 2011 as one of Dubai's Hot 100, and has been recognized in prestigious publications like Grazia UK, Grazia Middle East, Harper's Bazaar Arabia, and Marie Claire Middle East.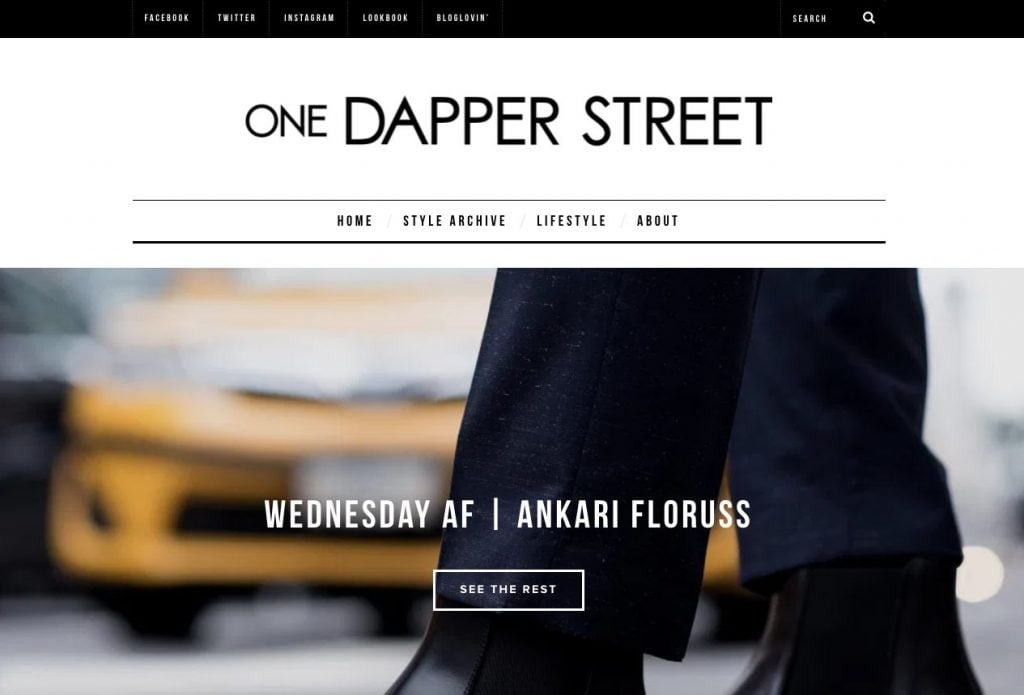 We often think of fashion blogs as exclusive to women, but fashion is for all genders. One Dapper Street is one blog that focuses on men and aims to change how they think about fashion. This blog is the online home of Marcel Floruss – "a German dude who loves fashion and all that goes with it." Fashion is Marcel's passion, bringing him from Germany to New York City.
A former model, Marcel went to fashion school in New York. While studying for his bachelor's degree, he decided to do something about the way men dress and how they perceive fashion as feminine.
In One Dapper Street, Marcel has combined his two other passions—photography and shopping. As the name suggests, the blog offers a mix of dapper and street styles for the modern man.
The blog includes numerous highly visual articles on a variety of style and lifestyle topics geared toward men.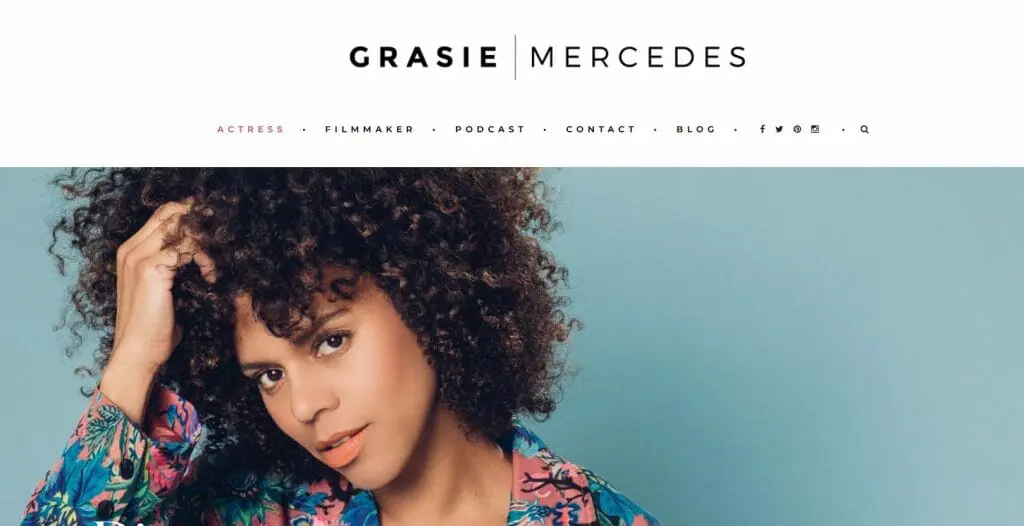 Multi-hyphenated creative Grasie Mercedes is not your usual fashion blogger. She is an actress, writer, filmmaker, director, and podcast host who also happens to have a rocking sense of style. Her website, simply named Grasie Mercedes, features her work in the entertainment industry. The blog section is where she posts about fashion, travel, beauty, and lifestyle.
You can find luscious photography in her posts. You will see Grasie sporting the latest fashion trends and her favorite outfits.
One might consider Grasie's website as her online portfolio, where her huge creative talent is showcased. Her posts about fashion prove her worth as a stylist and a blogger.
☛ Top 10 Best Free Responsive Blogger Templates
What My Boyfriend Wore is not the blog of a fashion-forward girlfriend, but it did start out with creator Sergio Ines' now former girlfriend posting photos of his outfits on Instagram. This "fashion diary with a difference," as Sergio describes it, is all about fashion and styling for the ordinary man.
It covers many aspects of men's lifestyle and fashion, from wearing suits properly to different ways of wearing a T-shirt, and even posts on drinks. The blog articles are accompanied by photos of Sergio in his dapper outfits, or photos of his trips. A regular topic is "Dressiquete," where the South African blogger tackles common style rules for men's fashion, such as matching your belt with your shoes, and where your tie bar should sit. (It's between the third and fourth buttons of your shirt, in case you were wondering.)
Some of the blog's fascinating categories include:
Sartorial Sundays
Dapper Dexterity
Fancy Friday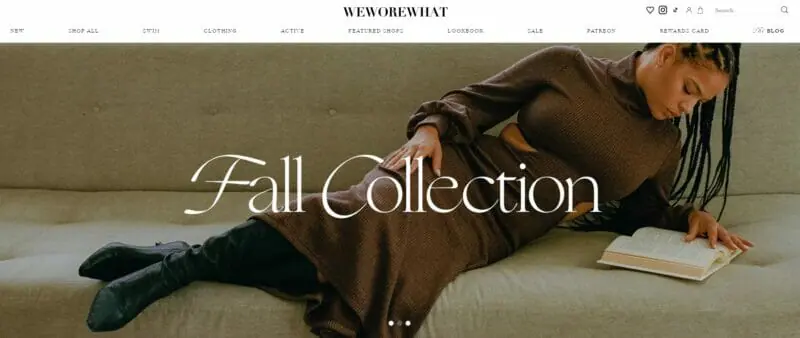 We Wore What is one of those remarkable blogs that have found success as an online shop. Founder Danielle Bernstein started We Wore What in 2010 while still a student in New York City. A self-taught photographer, she started with photographing street fashion in her campus. Eventually, the blog evolved into something more personal, and Danielle's career as a fashion influencer began. She has since written a New York Times bestseller entitled "This Is Not a Fashion Story," and was cited by Forbes in their 30 Under 30 list before the age of 25.
Although it has transformed into an online store, We Wore What has not abandoned its roots and is still active as a fashion blog. Danielle and her team posts about the latest style trends, gift guides, and other accessories.
If you're looking to strike a balance between effortless daily wear and healthy living, pop over to We Wore What.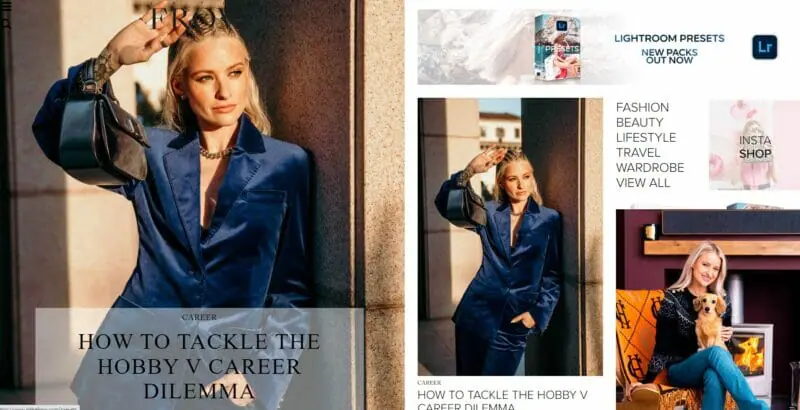 You won't often find a fashion blogger with the title "Dr." But Inthefrow's founder Victoria Magrath, Ph.D., successfully completed her postgraduate studies in Fashion Marketing at the University of Manchester, around the same time that she launched Inthefrow.  Now one of the most established fashion blogs around today, it wowed the world. Victoria's talent and skill in fashion has also been recognized by others: in 2016 and 2017, she was named Glamour's Woman of the Year, and she won the Best UK Fashion Blog for 2018 in the Vuelio Blog Awards.
Victoria's fame has seen her represent global brands. She's worked with Bvlgari, Dyson Hair, Lumene, St. Tropez, and Armani Beauty. But that's not all what Inthefrow is about. A former university lecturer, Victoria has written a book called The New Fashion Rules and has also worked with retailer, Edge of Ember, to design her own line of sustainable silver jewelry.
If you're looking for some of the finest advice on what to wear and how to style your closet and makeup, visit Inthefrow. You might be interested in these posts:
The New Fashion Rules for 2022 & Beyond
A Must Have Dupe for Those Sell Out Sparkly Boots
Where to Find Must Have Accessories for Spring Summer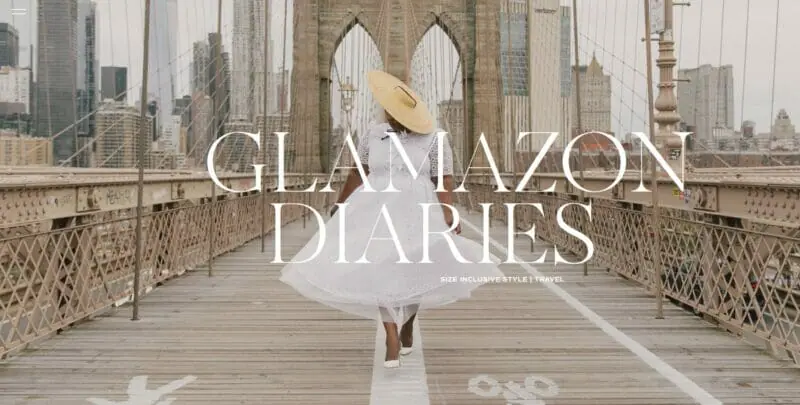 Glamazon Diaries is the perfect blend of fashion, beauty, lifestyle, travel, wellness, and a touch of wedding advice. One of the earliest fashion blogs in Washington D.C., Glamazon Diaries was created in 2007 by Makeda Saggau-Sackey. As an influencer in the body positive movement, she's committed to making women of all shapes and sizes feel confident in their skin, and do so on a budget.
Makeda's take on fashion is a very personal one. The wedding section of Glamazon Diaries, for instance, documents Makeda's own experience, from their proposal story to her wedding to Frenchman Thomas Rabioux, a senior manager at Louis Vuitton.
You'll find tons of great takes on trends and seasons, and get a peek at what Makeda loves to wear. And if you see something you absolutely must have on her blog, Makeda helps you out by posting links to where you can shop for the look.
☛ Top 10 Best Free Responsive Blogger Templates

Another doctorate graduate on our list is Monroe Steel, founder of Fashion Steele NYC. Back in 2010, Monroe completed her Ph.D. in Physical Therapy and needed an outlet for her creative side. She was brimming with ideas and a love for fashion—it didn't take long for her to capitalize on both. Since then, Monroe has swapped her scrubs for a more fashionable outfit, transitioning to full-time blogging to make the most of her two passions—writing and fashion. From the best thrift buys to look out for to high-end events like New York, Paris, and Milan Fashion Week, you'll find all the inspiration to look your best.
Fashion Steele NYC also explores travel, beauty, lifestyle, and events. This makes it a smart guide for what to do, see, and keep up with weekly. And if you're thinking about starting a blog or an online business yourself, Monroe also gives advice like "How to Not Suck at Public Speaking" and "7 Tips for Being a Successful Entrepreneur."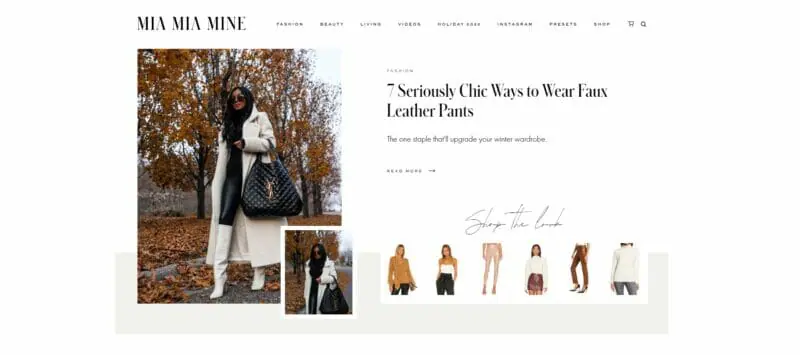 Maria Vizuete is a former stock analyst turned fashion blogger. She was working in Wall Street when she started her fashion blog Mia Mia Mine as a creative outlet. Like other bloggers on our list who came from other industries, Maria believes her shift to fashion blogging was the best decision she has made. Her background in finance can be seen in some of the themes of her blog. She gives advice to women on investment pieces they can splurge on, along with tips on how to pair them with more affordable clothes. Her target market is the working woman who wants to look her best anytime from day to night.
Like many savvy fashion bloggers, Maria has expanded her scope to other niches. Today, a visit to Mia Mia Mine will get you home decor, marriage, fitness, travel, and blogging tips. If you're wondering what fashion pieces to invest in and which ones you can get away with purchasing at a thrift shop, Mia Mia Mine can help you.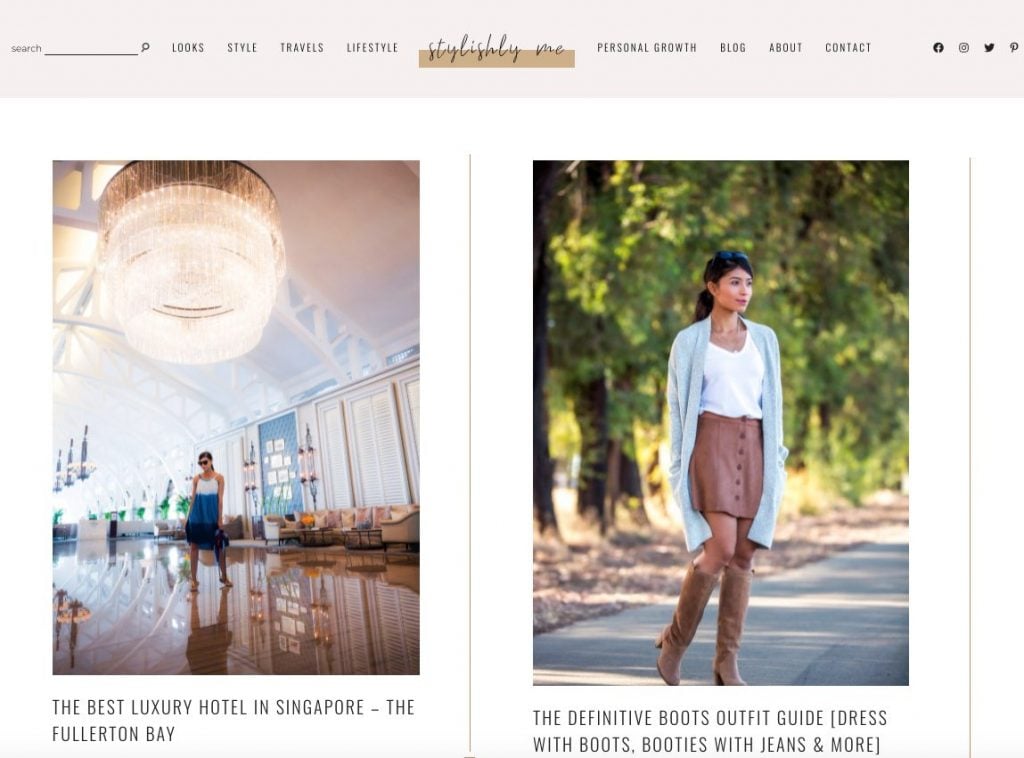 Vanessa Rodriguez Lang is not just a fashion blogger—she considers herself an entrepreneur, fashionista, and consultant. Running a digital marketing agency alongside creating and managing the Stylishlyme blog, Vanessa keeps her hands full helping other entrepreneurs build sustainable businesses and bringing her love for fashion to life. In 2009, her husband suggested she start a blog, so she could have an outlet for her passion. Thus, Stylishlyme was born.
Stylishlyme has your usual fashion and style tips, including posts on how to wear fashion pieces like midi dresses, boots, hats, and ankle strap heels. Aside from these, Stylishlyme also dedicates a section of the website to personal growth. The blog offers advice on improving yourself through proper time management and good habits, among others.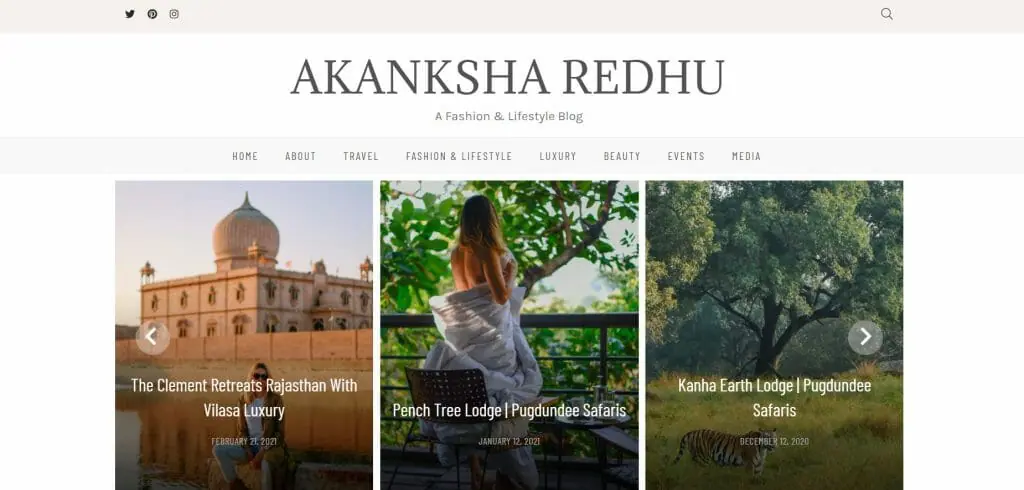 One of India's top fashion bloggers, Akanksha Redhu started her blog in 2010 as a journal to document and express her thoughts and ideas. It has since evolved to be a full-fledged fashion, beauty, and lifestyle blog, including posts on Indian Fashion Week.
In her blog, Akanksha posts about clothes and beauty products she personally uses, her everyday style, interesting events, and travel posts. She has collaborated with numerous brands, including Armani, Swarovski, Ralph Lauren, Estée Lauder, Burberry, L'Occitane, and even Uber, Airbnb, and Amazon.
☛ Top 10 Best Free Responsive Blogger Templates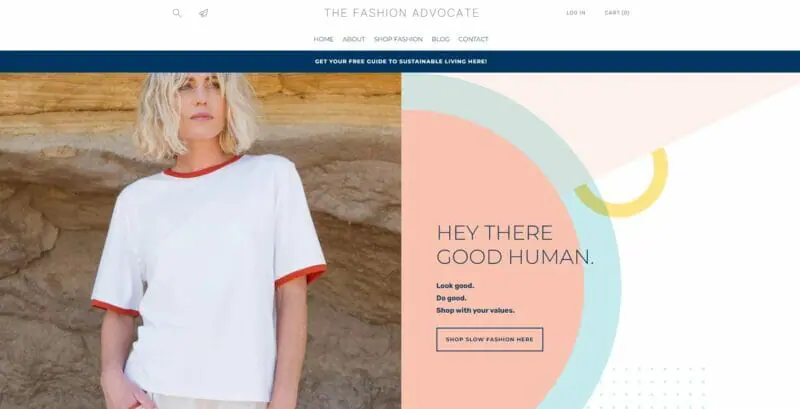 With the rise of fast fashion brands, many environmentalists are getting concerned about the impact it has on our society and environment. True to its name, the Fashion Advocate by Australian blogger Claire Goldsworthy champions sustainable fashion trends. She brings the conversation around fashion to a higher level, prompting readers to consider the impact their fashion choices have around them.
The Fashion Advocate features brands that align with her values and ethics, and encourages her followers to also "shop with your values."
Their online shop only stocks items from brands that have a minimum of three out of ten values:
Made in Australia/New Zealand
Designed in Australia/New Zealand
Sustainable and zero-waste
Certified accredited by official industry bodies
Vegan
Transparent supply chains
Ethical
Social enterprise
Recycled and circular
Eco-friendly fabrics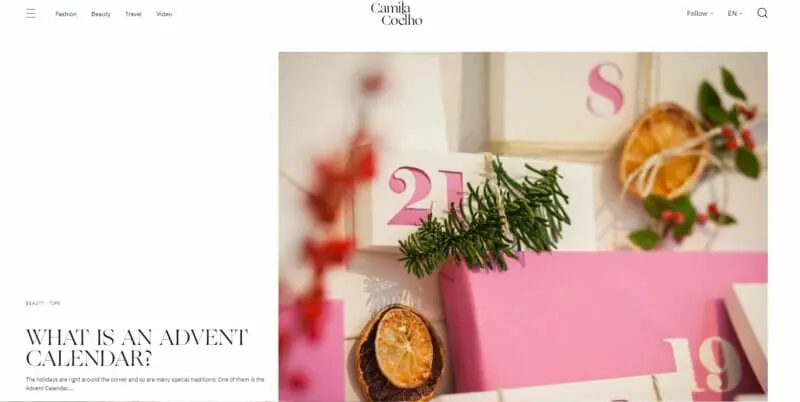 This Brazilian fashion blogger with over nine million followers on Instagram also posts about makeup, skincare, and travel. She started as a beauty vlogger on YouTube back in 2010, doing makeup tutorials. Today, she is one of the most popular online fashion bloggers, even launching her own clothing line on Revolve.
She's not just all beauty and fashion, though. Camila also serves as an ambassador and board member of the Epilepsy Foundation of America. As a person with epilepsy herself, Camila aims to share her own story about the disorder and raise awareness about the challenges and obstacles of living with epilepsy.
Recent interesting fashion posts on her website include:
Summer Trend: Crochet Bikini
Street Style Tips
How To Wear White Pieces
☛ Top 10 Best Free Responsive Blogger Templates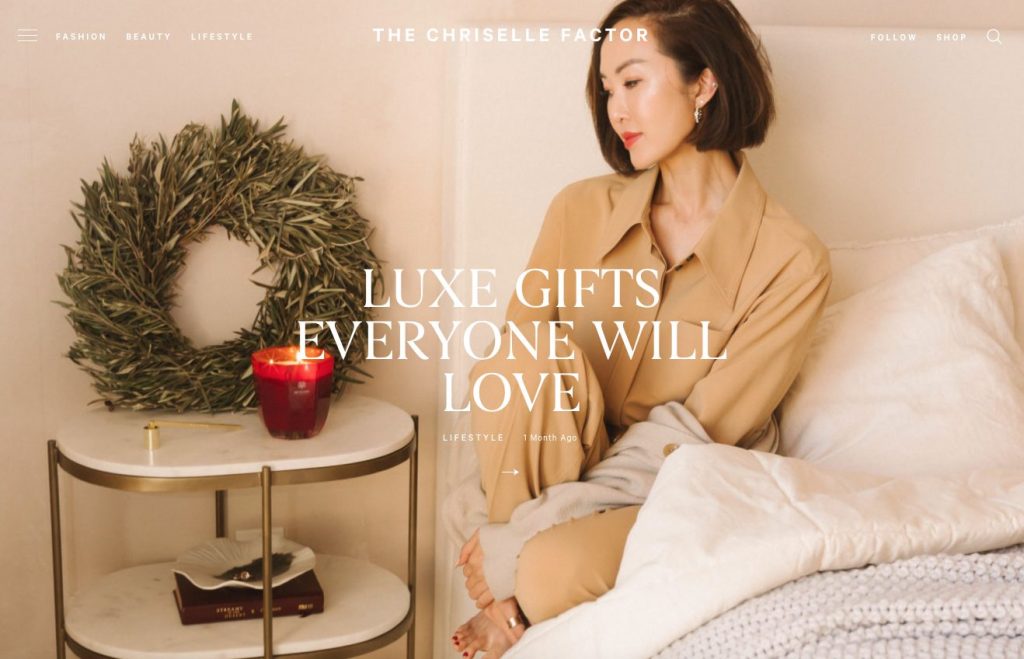 Korean-American stylist Chriselle Lim started the Chriselle Factor in 2011 as an outlet for her creativity. Alongside her blog is her YouTube channel, which now boasts almost 66 million views and more than 700 thousand subscribers.
Working with luxury brands such as Gucci, MiuMiu, Dior, Cartier, and Versace, Chriselle has firmly established her name as a top stylist and fashion blogger. A mother of two, her blog also features posts about motherhood and parenting. She has even amassed a large following on the popular app TikTok where she is nicknamed "Rich Mom."
Among her recent posts on The Chriselle Factor blog and YouTube channel include:
Korean Beauty Secrets with Umma Lim (YouTube video)
Luxe Gifts Everyone Will Love (blog post)
Summer Outfits & Makeup (YouTube video)
20+ Trendiest Fashion Blogs List to Follow in 2023 Do tell us how you liked it in the comment box and share this post with your friends. If I have missed any step in this, then do tell us in the comment box, I will try my best to answer your questions as soon as possible.
Stay tuned to Techify ideas for more such important information, thank you!
How do you like this Post.